Since the New Year started and I decided I needed to get healthier I started Atkins again. Of course on Atkins you aren't allowed things like bread or sugar or even certain starchy vegetables. I've done really well so far too. Lost 17lbs since Jan 1st. But I ran across this recipe called Oopsie Bread and it is super easy to make and it really does help gatting through that induction phase a lot easier. I've been able to make my sandwiches again without wrapping it all in lettuce and I can do it without feeling guilty too! Gluten free too.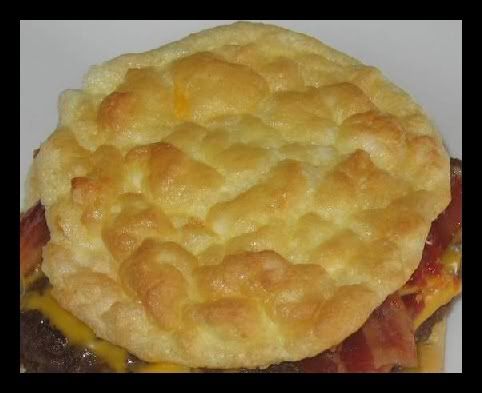 Oopsie Rolls (Gluten-Free Buns)
3 large eggs
pinch of cream of tartar (1/8 tsp)
3 ounces cream cheese (Do not soften)
Preheat oven to 300 degrees F.
Separate the eggs and add cream cheese to the yolks. Use a mixer to combine the ingredients together. In a separate bowl, whip egg whites and cream of tartar until stiff (if you're using the same mixer, mix the whites first and then the yolk mixture). Using a spatula, gradually fold the egg yolk mixture into the white mixture, being careful not to break down the whites. Spray a cookie sheet with non-stick spray and spoon the mixture onto the sheet, making 6 mounds. Flatten each mound slightly.
Bake about 30 minutes (You want them slightly softer, not crumbly). Let cool on the sheet for a few minutes, and then remove to a rack and allow them to cool. Store in a loosely open sack and allow to rest on the counter before use (otherwise they might be too moist). Can be frozen.
Notes: If you are making these to be savory (for burgers) you can add dry mustard and dill or other seasonings to the yolk mixture. If you want a more sweet roll, add a very small amount of stevia natural sweetener to the yolk mixture.
Makes 6 Induction Friendly, Gluten-Free rolls.
Nutritional information per roll: Calories:85 , Carbohydrates: .6 g, Fiber: 0g, Net Carbohydrates: .6g, Protein: 4g, Fat: 7.5